This product has reached end of life
The price has been reduced on remaining stock, these displays are perfect for a one-off or hobby project. As with all Crystalfontz displays, full technical support is included but we cannot accept returns. Browse our other 128x64 OLED Displays.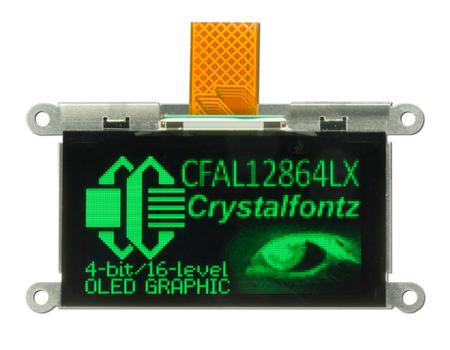 128x64 Graphic OLED Display
Part Number:

CFAL12864LX-G

This 128x64 green OLED offers 3V operation, 8-bit parallel or SPI interface and a 30 pin FPC connector.
Green 2.7" diagonal 128x64 graphic OLED display module.
16-level grayscale.
Includes tray with mounting holes.
Extremely wide viewing angles.
Very high contrast ratio.
Built-in Solomon Systech SSD1325 or compatible controller.
8-bit parallel interface or SPI Interface.
Operating temperature range -40C to +80C.
Suggested ZIF connectors are Amphenol / FCI 10051922-3010ELF or SFV30R-2STE1LF for horizontal bottom or top contacts, or Omron XF2M-3015-1A as a vertical connector.
RoHS compliant.
Crystalfontz America Inc. is ISO 9001:2008 certified.
Order soon! We've only got 4 left!
TECHNICAL SPECS
For reference only. For design purposes, please use the specifications in the datasheet.
Physical Characteristics
| | |
| --- | --- |
| Column Dots x Row Dots | 128 x 64 |
Module Overall
width
height
depth
millimeters
89.7
47.2
3.4
inches
3.531
1.858
0.134
*width / height does not include Foldable Tab
| PCB Outline | width | height | depth |
| --- | --- | --- | --- |
| millimeters | 73.0 | 41.86 | 3.4 |
| inches | 2.874 | 1.648 | 0.134 |
| | |
| --- | --- |
| Diagonal Dimension | 2.700" |
| Viewing Area | width | height |
| --- | --- | --- |
| millimeters | 63.41 | 32.69 |
| inches | 2.496 | 1.287 |
| Active Area | width | height |
| --- | --- | --- |
| millimeters | 61.41 | 30.69 |
| inches | 2.418 | 1.208 |
| Dot Size | width | height |
| --- | --- | --- |
| millimeters | 0.45 | 0.45 |
| inches | 0.018 | 0.018 |
| Dot Pitch | width | height |
| --- | --- | --- |
| millimeters | 0.48 | 0.48 |
| inches | 0.019 | 0.019 |
| Flexible Cable (FFC/FPC) | length |
| --- | --- |
| millimeters | 105.7 |
| inches | 4.161 |
Optical Characteristics
| | |
| --- | --- |
| Glass Type | OLED |
| Polarizer | Emissive |
| View Angle | 160° |
| | |
| --- | --- |
| Foreground Color | Green |
| Background Color | Grayscale |
Environmental
| Operating Temperatures | min | max |
| --- | --- | --- |
| Celsius | -40° | 80° |
| Fahrenheit | -40° | 176° |
| Storage Temperatures | min | max |
| --- | --- | --- |
| Celsius | -40° | 80° |
| Fahrenheit | -40° | 176° |
*Suggest a Correction
Datasheets

---
Files


RoHS/REACH COC - F-0058B CFA REACH DoC OLED Displays
REACH EC/1097-2006 SVHC Annex 1 Declaration of Conformity to include ECHA List updated 2016-06-20 (169 Substances)
REACH EC/1097-2006 Annex XIV 'Authorisation List' Updated 2016-01-11 (31 substances)
REACH EC-1097-2006 Annex XVII Restricted Substances Directive 76/769/EEC, Updated 2016-03-17 (61 unique substances/entries)
Previous Versions

Part Change Notice
Subscribe to Part Change Notices by email or RSS
Product Update #10732: End of Life Notification
| | |
| --- | --- |
| Products Affected: | CFAL12864LX-G, CFAL12864LX-Y, CFAL12864QX-Y, CFAL12864QX-G |
| Date Issued: | November 10, 2016 |
| Summary: | End of Life Notification |
| Description: | The listed parts are being discontinued and are not recommended for new designs. Existing stock is limited and will be sold until gone at the discounted price of $3.99. |
| Reason: | Flex cable manufacturer discontinued required component. |
| Impact: | Product End of Life |
| Recommendation: | No suitable replacement is currently available |
| Availability: | At this time we have no suitable replacements |
Product Update #10610: (New Product) CFAL12864LX-G
| | |
| --- | --- |
| New Product: | CFAL12864LX-G |
| Date Issued: | September 9, 2014 |
| Summary: | (New Product) CFAL12864LX-G |
| Description: | OLED Modules: Green, 128x64, graphic greyscale OLED, Extremely wide viewing angle, High contrast |