Full-Color TFT Displays for Arduino
Looking for a color TFT display solution for your Arduino? Crystalfontz has tested all these displays specifically for Arduino and compatible microprocessors. These TFT development kits are perfect for getting a head start on your product prototype, simply plug them in with our micro-USB cable and you're ready to go. You can download our demo code as a starting point for your product development immediately.
TFT Development Kits for Arduino
(Microcontroller Included)
These TFT development kits come with everything connected and will run our demonstration code as soon as it's plugged in.
Includes:
Seeeduino 4.2 microprocessor
Jumper wires
TFT Display + breakout board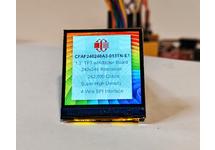 240x240 1.3" TFT Display Dev Kit
Part #: CFAF240240A3013TNE12
Size: 26mm x 29.15mm x 13.75mm
Resolution: 240x240 pixels
Diagonal Dimension: 1.3"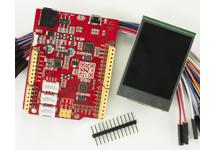 240x320 Color TFT Complete Dev Kit
Part #: CFAF240320X0020TE12
Size: 35.8mm x 52.1mm
Resolution: 240x320 pixels
Diagonal Dimension: 2.01"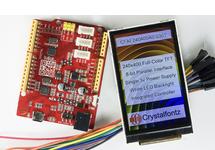 240x400 TFT Development Kit
Part #: CFAF240400A0E12
Size: 45.04mm x 77mm
Resolution: 240x400 pixels
Diagonal Dimension: 2.98"
TFTs with Arduino Compatible Breakout Boards
(Microcontroller Not Included)
Don't need a microcontroller? No problem, simply wire these breakout boards to your microcontroller using the information found in the datasheet then download our Arduino compatible demo code to start working with these TFTs.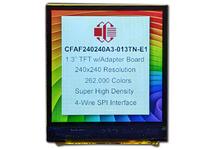 1.3" 240x240 Full-Color LCD Display with Adapter Board
Part #: CFAF240240A3013TNE1
Size: 26mm x 29.15mm x 13.75mm
Interfaces: SPI
Resolution: 240x240 pixels
Color: RGB on Dark
Polarizer: IPS
Diagonal Dimension: 1.3"
Backlight: White LED
Controller: Sitronix ST7789H2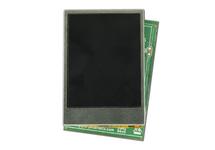 240x320 Color TFT w/Carrier Board
Part #: CFAF240320X0020TE11
Size: 26mm x 29.15mm x 13.75mm
Interfaces: 16-bit Parallel, 18-bit Parallel, 8-bit Parallel, 9-bit Parallel, DOT-CLK interface / Generic RGB, SPI
Resolution: 240x320 pixels
Color: RGB on Dark
Polarizer: Transmissive
Diagonal Dimension: 2.01"
Backlight: White LED
Controller: Sitronix ST7789V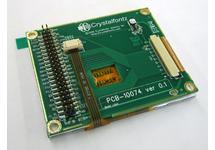 CFAF320240F-035T-TS TFT With Carrier Board
Part #: CFAF320240F035TTSCB
Size: 77.6mm x 64.4mm x 4.5mm
Interfaces: 16-bit Parallel, 18-bit Parallel, 8-bit Parallel, 9-bit Parallel, DOT-CLK interface / Generic RGB, SPI
Resolution: 320x240 pixels
Color: RGB on Dark
Polarizer: Transmissive
Diagonal Dimension: 3.45"
Backlight: White LED
Controller: Solomon Systech SSD2119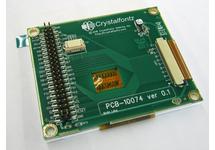 CFAF320240F-035T TFT With Carrier Board
Part #: CFAF320240F035TCB
Size: 77.6mm x 64.4mm x 3.1mm
Interfaces: 16-bit Parallel, 18-bit Parallel, 8-bit Parallel, 9-bit Parallel, DOT-CLK interface / Generic RGB, SPI
Resolution: 320x240 pixels
Color: RGB on Dark
Polarizer: Transmissive
Diagonal Dimension: 3.45"
Backlight: White LED
Controller: Solomon Systech SSD2119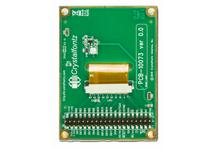 CFAF240320B1-032T-TS TFT With Carrier Board
Part #: CFAF240320B1032TTSCB
Size: 57.04mm x 78.7mm x 4.2mm
Interfaces: 16-bit Parallel, 8-bit Parallel
Resolution: 240x320 pixels
Color: RGB on Dark
Polarizer: Transmissive
Diagonal Dimension: 3.19"
Backlight: White LED
Controller: Sitronix ST7789V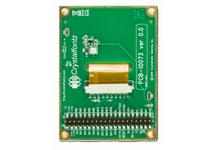 CFAF240320A-032T TFT With Carrier Board
Part #: CFAF240320A032TCB
Size: 57.54mm x 79.3mm x 5.39mm
Resolution: 240x320 pixels
Color: RGB on Dark
Polarizer: Transmissive
Diagonal Dimension: 3.19"
Backlight: White LED
Controller: Orise Tech OTM3225C