Why Choose Crystalfontz America?
Crystalfontz America is a leading U.S. provider of LCD display modules. We specialize in providing our customers the very best and the largest selection of small displays including USB LCDs, TFT LCDs, Character LCD Displays, OLED displays, ePaper and all the LCD development kits, breakout boards, cables and LCD software and drivers you need to develop your product or project.
What makes Crystalfontz America different from other LCD display vendors? Whether you need one small serial LCD or millions of 128x32 OLEDs, we'll get it done, quickly, efficiently and with all the documentation, warranties and code examples for every single display we sell. Not to mention, we're in the U.S. so we can get product to you fast!
As an ISO 9001:2015 certified company, we know the importance of quality. No matter what type of USB LCD display, OLED display, or touch screen TFT LCD module, we can help you get the best display for your product or project.
Crystalfontz has been an LCD supplier since 1998 and has supplied innovative display solutions to many top-tier companies, including IBM® Google® and Apple®. Our facility is located in Washington State and we ship LCD display modules around the world.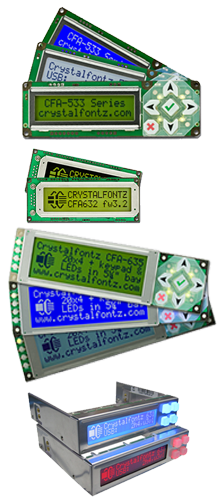 Get to Market FAST and ON BUDGET
with our
Advanced USB LCD Modules
Quick and simple integration into new products
Quantity discounts from
10-1000!
Multiple interfaces including USB, I2C, RS232, Serial, SPI
4 & 6 Button illuminated keypads
Popular Character Layouts: 16x2, 20x2, 10x4
Graphic capable (CFA835 Series)
Status LED lights for additional visual alerts
Certified Windows® and Linux drivers
ATX capable for advanced power management
Built-in command set for quick implementation
Expert technical support, we designed it, we build it.
Never to be EOL'd, these LCD modules aren't going anywhere
Read More »
Need a Replacement Display? Checkout our Standard LCD Modules that use common controllers.
Software
Download Drivers & Utilities for our Hardware
Tech Forum
Get information and support from the community that uses our display modules.