USB, SERIAL, TFT, OLED GRAPHIC & CHARACTER LCD MODULES IN STOCK & READY TO SHIP.
All of our LCD display modules have complete datasheets, free "won't let you fail" technical support, and a one year warranty.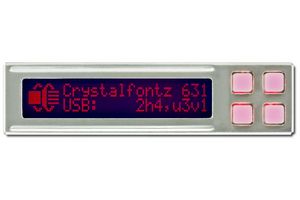 Many Sizes & Colors
Easy to Integrate
Graphic & Character LCDs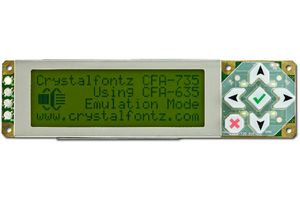 Serial Graphic LCDs & Character LCDs
5 different Character/Lines Layouts
11 different graphic resolutions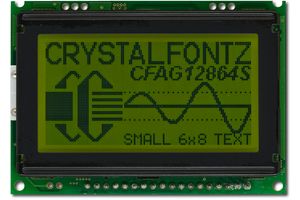 Over 25 different resolutions
12 Different LCD interfaces
50+ different sizes
12 Character X Lines options
40+ Different LCD Sizes
8 Different LCD Interfaces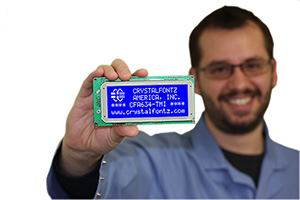 Expert Support
U.S. Based
Fast & Accurate Responses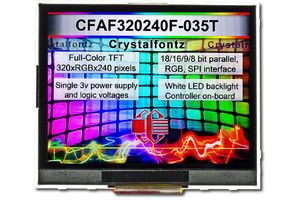 8 Different TFT resolutions
9 unique TFT LCD sizes
6 TFT LCD interfaces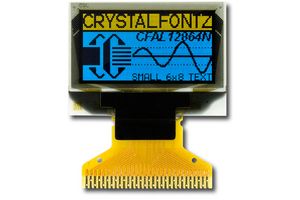 Character & Graphic OLEDs
4 Graphical OLED resolutions
5 Character OLED sizes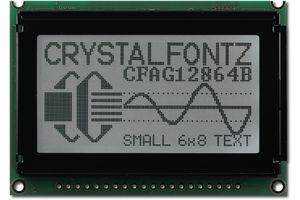 150+ Sunlight Readable Displays
Transflective & Reflective LCDs
8 Different LCD Interfaces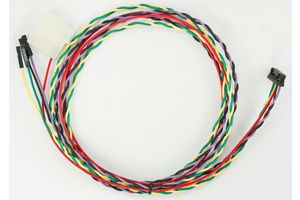 Full Line of LCD Cables
Complete LCD Development Kits
DOW 1-Wire Temperature Sensors
It's rare to find customer service this fast and helpful. Tim went way beyond the call of duty to help answer my question. I can't recommend him enough.

Why Choose Crystalfontz America?
Superior LCD's, TFT's & OLEDs. Crystalfontz thoroughly vets all our material suppliers and is constantly measuring our LCD quality and manufacturing processes. As an ISO 9001:2008 certified company, we understand the importance of quality. Whether you need a serial LCD module or a touch screen TFT module we've got them all in-stock and ready to ship.

Outstanding product support. When it comes to LCDs, OLEDs, TFTs and many other display modules, we're experts and our support is unrivaled. Crystalfontz has been an LCD supplier since 1998 and has supplied display solutions to many top tier companies such as IBM®, Google®, Apple® and many more. Our facility is located in Washington State and we ship display modules around the world.
Software
Download Drivers & Utilities for our Hardware
Tech Forum
Get information and support from the community that uses our display modules.