This product has reached end of life
[EOL] 320x240 Graphic LCD Module
Part Number: CFAG320240C0-YMI-TZ
320x240 Graphic LCD, Yellow/Green LED Backlight, STN Negative, Blue, Transmissive -20°C to +70°C 6:00 viewing angle. Negative Voltage Generator, Temperature Compensation
320x240 graphic LCD module
Built-in RAiO RA8835 (SED1335/S1D3305 Compatible) controller and 32Kbyte SRAM
Multiple text and graphic layers
Available in several variations of backlight and polarizer (minimum order may be required)
RoHS Compliant
TECHNICAL SPECS
Physical Characteristics
| | |
| --- | --- |
| Column Dots x Row Dots | 320 x 240 |
| Module Overall | width | height | depth |
| --- | --- | --- | --- |
| millimeters | 139.98 | 120.24 | 15.6 |
| inches | 5.511 | 4.734 | 0.614 |
| PCB Outline | width | height | depth |
| --- | --- | --- | --- |
| millimeters | 139.98 | 120.24 | 15.6 |
| inches | 5.511 | 4.734 | 0.614 |
| Viewing Area | width | height |
| --- | --- | --- |
| millimeters | 120.14 | 92.14 |
| inches | 4.730 | 3.628 |
| Active Area | width | height |
| --- | --- | --- |
| millimeters | 115.18 | 86.38 |
| inches | 4.535 | 3.401 |
| Dot Size | width | height |
| --- | --- | --- |
| millimeters | 0.34 | 0.34 |
| inches | 0.013 | 0.013 |
| Dot Pitch | width | height |
| --- | --- | --- |
| millimeters | 0.36 | 0.36 |
| inches | 0.014 | 0.014 |
Optical Characteristics
| | |
| --- | --- |
| Glass Type/Glass Color | STN/Blue |
| Polarizer | Transmissive |
| View Direction | 6 o'clock |
| | |
| --- | --- |
| Backlight Color | Yellow-Green |
| Backlight Type | LED |
| Mode | Negative |
| Foreground Color | Yellow |
| Background Color | Dark |
Electrical Specifications
| | |
| --- | --- |
| Module Connector Pitch | 0.10mm |
Environmental
| Operating Temperatures | min | max |
| --- | --- | --- |
| Celsius | -20° | 70° |
| Fahrenheit | -4° | 158° |
| Storage Temperatures | min | max |
| --- | --- | --- |
| Celsius | -30° | 80° |
| Fahrenheit | -22° | 176° |
| Humidity | min | max |
| --- | --- | --- |
| Non-condensing | 0% | 90% |
For reference only. For design purposes, please use the specifications in the datasheet.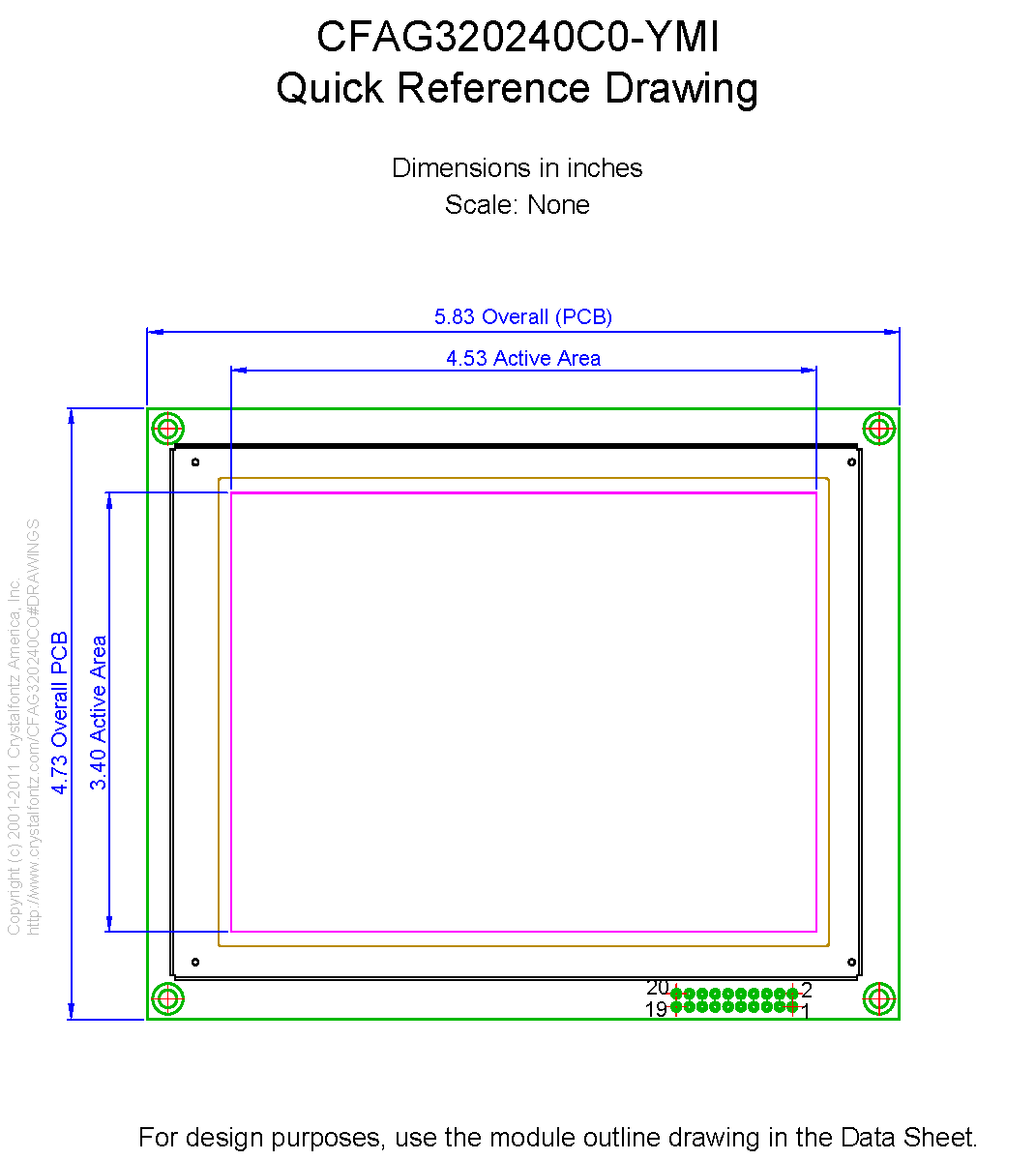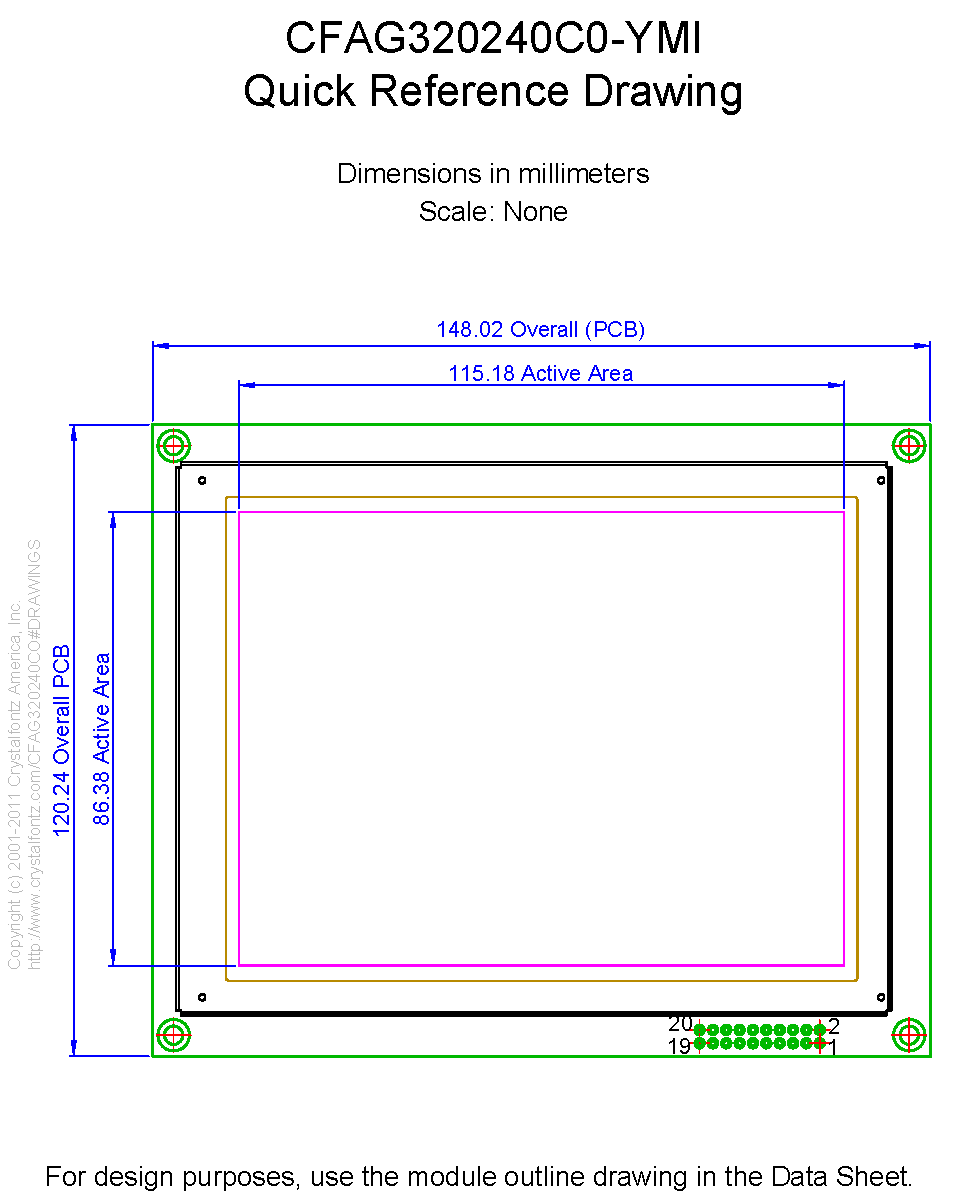 Product Notes
While we do not offer any direct replacements for this product, perhaps one of our many other
CFAG displays
will fit your needs. Feel free to
contact our tech support team
to get assistance in finding the right display.