This product has reached end of life
EOL 16x2 Yellow-Green LCD
Part Number: CFAH1602A-GGH-JT
Parallel Character LCD 16x2, RoHS Compliant, Green LED Backlight, STN Positive, Gray, Transflective -20°C to +70°C, 6:00
Form compatible with the CFAG14432C Series of Graphic LCD modules. Upgrade your product that uses this CFAH1602A character display by switching to a graphic CFAG14432C, or, lower your costs by replacing the graphic with this character module
Form compatible with the CFAG12232A Series of Graphic LCD modules. Upgrade your product that uses this CFAH1602A character display by switching to a graphic CFAG12232A, or, lower your costs by replacing the graphic with this character module
Available in several variations of backlight and polarizer (minimum order may be required)
8-bit or 4-bit parallel interface
Industry-standard HD44780 compatible controller
TECHNICAL SPECS
Physical Characteristics
| | |
| --- | --- |
| Characters x Lines | 16 x 2 |
| Module Overall | width | height | depth |
| --- | --- | --- | --- |
| millimeters | 84 | 44 | 13.2 |
| inches | 3.307 | 1.732 | 0.520 |
| PCB Outline | width | height | depth |
| --- | --- | --- | --- |
| millimeters | 84 | 44 | 13.2 |
| inches | 3.307 | 1.732 | 0.520 |
| Viewing Area | width | height |
| --- | --- | --- |
| millimeters | 66 | 17 |
| inches | 2.598 | 0.669 |
| Active Area | width | height |
| --- | --- | --- |
| millimeters | 56.2 | 11.5 |
| inches | 2.213 | 0.453 |
| Character Size | width | height |
| --- | --- | --- |
| millimeters | 2.95 | 5.55 |
| inches | 0.116 | 0.219 |
| Character Pitch | width | height |
| --- | --- | --- |
| millimeters | 3.55 | 5.95 |
| inches | 0.140 | 0.234 |
| Dot Size | width | height |
| --- | --- | --- |
| millimeters | 0.55 | 0.65 |
| inches | 0.022 | 0.026 |
| Dot Pitch | width | height |
| --- | --- | --- |
| millimeters | 0.6 | 0.7 |
| inches | 0.024 | 0.028 |
Optical Characteristics
| | |
| --- | --- |
| Glass Type/Glass Color | STN/Gray |
| Polarizer | Transflective |
| View Direction | 6 o'clock |
| Sunlight Readable | Yes |
| | |
| --- | --- |
| Backlight Color | Green |
| Backlight Type | LED |
| Mode | Positive |
| Foreground Color | Dark |
| Background Color | Green |
Electrical Specifications
| | |
| --- | --- |
| Module Connector Pitch | 0.10mm |
Environmental
| Operating Temperatures | min | max |
| --- | --- | --- |
| Celsius | -20° | 70° |
| Fahrenheit | -4° | 158° |
| Storage Temperatures | min | max |
| --- | --- | --- |
| Celsius | -30° | 80° |
| Fahrenheit | -22° | 176° |
| Humidity | min | max |
| --- | --- | --- |
| Non-condensing | 0% | 90% |
Electronics
Controller Documents
Sitronix ST7066U
Dot Matrix LCD Controller/Driver

Interface
4-bit Parallel, 8-bit Parallel
For reference only. For design purposes, please use the specifications in the datasheet.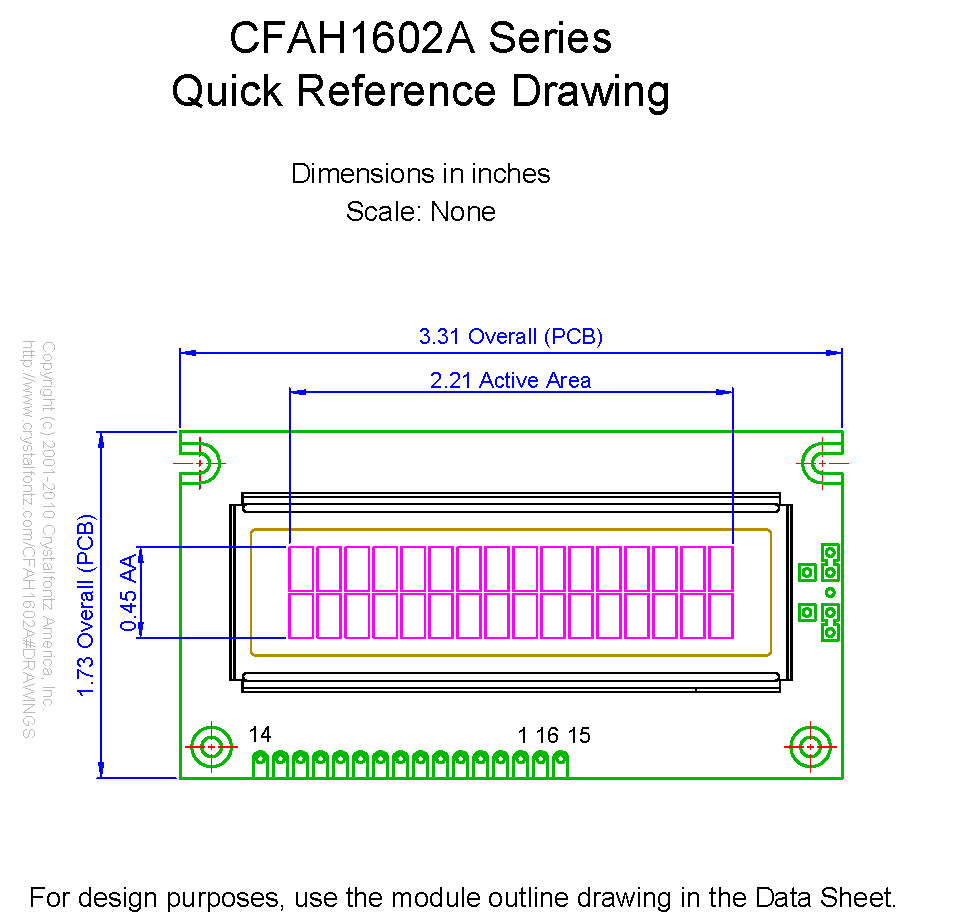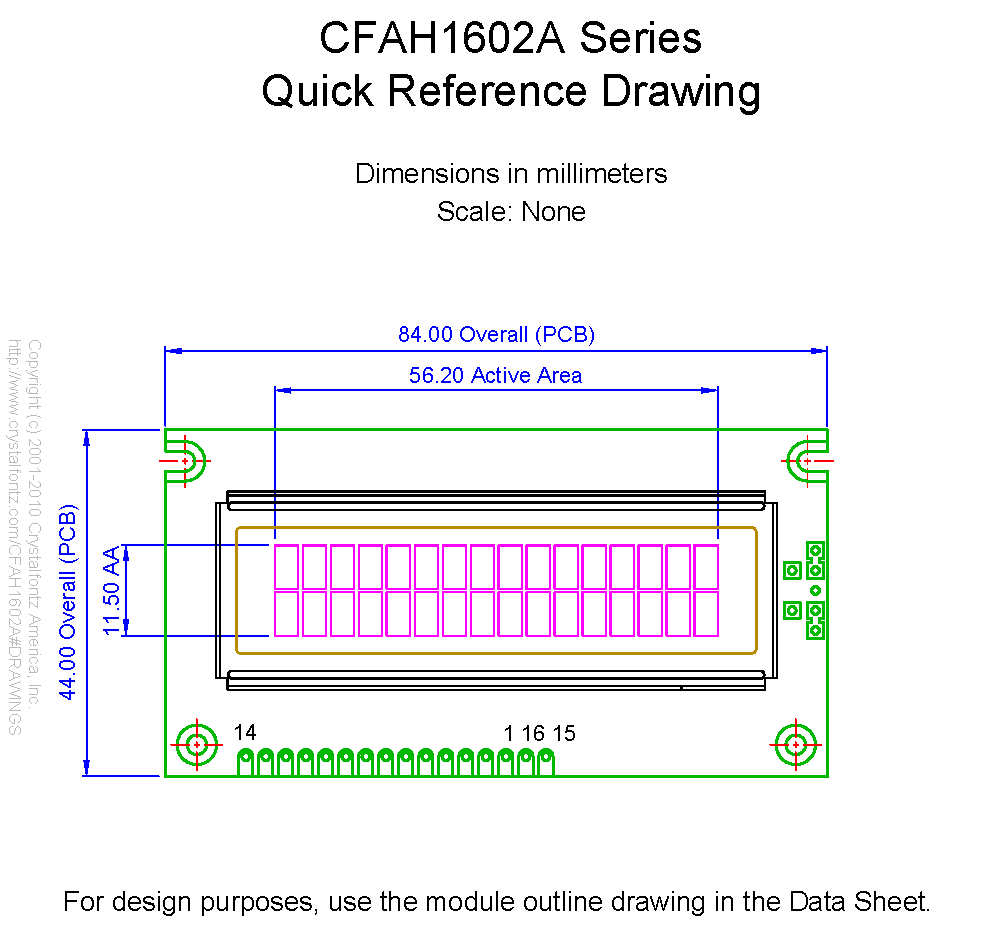 Product Notes
While we do not offer any direct replacements for this product, perhaps one of our many other
CFAH displays
will fit your needs. Feel free to
contact our tech support team
to get assistance in finding the right display.