Green 20x4 Character LCD [EOL]
Part Number: CFAH2004A-YMI-JT
TECHNICAL SPECS
Physical Characteristics
| | |
| --- | --- |
| Characters x Lines | 20 x 4 |
| Module Overall | width | height | depth |
| --- | --- | --- | --- |
| millimeters | 98 | 60 | 13.6 |
| inches | 3.858 | 2.362 | 0.535 |
| PCB Outline | width | height | depth |
| --- | --- | --- | --- |
| millimeters | 98 | 60 | 13.6 |
| inches | 3.858 | 2.362 | 0.535 |
| Viewing Area | width | height |
| --- | --- | --- |
| millimeters | 77 | 25.2 |
| inches | 3.031 | 0.992 |
| Active Area | width | height |
| --- | --- | --- |
| millimeters | 70.4 | 20.8 |
| inches | 2.772 | 0.819 |
| Character Size | width | height |
| --- | --- | --- |
| millimeters | 2.95 | 4.75 |
| inches | 0.116 | 0.187 |
| Character Pitch | width | height |
| --- | --- | --- |
| millimeters | 3.55 | 5.35 |
| inches | 0.140 | 0.211 |
| Dot Size | width | height |
| --- | --- | --- |
| millimeters | 0.55 | 0.55 |
| inches | 0.022 | 0.022 |
| Dot Pitch | width | height |
| --- | --- | --- |
| millimeters | 0.6 | 0.6 |
| inches | 0.024 | 0.024 |
Optical Characteristics
| | |
| --- | --- |
| Glass Type/Glass Color | STN/Blue |
| Polarizer | Transmissive |
| View Direction | 6 o'clock |
| | |
| --- | --- |
| Backlight Color | Yellow-Green |
| Backlight Type | LED |
| Mode | Negative |
| Foreground Color | Yellow-Green |
| Background Color | Dark |
Electrical Specifications
| | |
| --- | --- |
| Module Connector Pitch | 0.1mm |
Environmental
| Operating Temperatures | min | max |
| --- | --- | --- |
| Celsius | -20° | 70° |
| Fahrenheit | -4° | 158° |
| Storage Temperatures | min | max |
| --- | --- | --- |
| Celsius | -30° | 80° |
| Fahrenheit | -22° | 176° |
| Humidity | min | max |
| --- | --- | --- |
| Non-condensing | 0% | 90% |
Electronics
Controller Documents
Sitronix ST7066U
Dot Matrix LCD Controller/Driver

Interface
4-bit Parallel, 8-bit Parallel
Part Change Notice
Subscribe to Part Change Notices by email or RSS
Product Update #10652: (New Product) CFAH2004A-YMI-JT
| | |
| --- | --- |
| New Product: | CFAH2004A-YMI-JT |
| Date Issued: | April 3, 2015 |
| Summary: | (New Product) CFAH2004A-YMI-JT |
| Description: | Standard Character Modules: Parallel Character LCD 20x4, RoHS, Y/G LED Backlight, STN Negative, Blue, Transmissive -20°C to +70°C 6:00 |
Product Update #10651: CFAH2004A-YMI-JT discontinued.
Product Affected:
CFAH2004A-YMI-JT
Date Issued:
April 3, 2015
Summary:
CFAH2004A-YMI-JT discontinued.
Description:
With improved technology and manufacturing, the CFAH2004A-YMI-JT with negative blue STN LCD and yellow-green LED backlight is being discontinued in favor of a the visually superior CFAH2004A-YTI-JT with negative FSTN LCD and yellow-green LED backlight.
Recommendation:
If product is currently designed with CFAH2004A-YMI-JT, it is recommended to move to the CFAH2004A-YTI-JT.
Availability:
CFAH2004A-YMI-JT has very limited availability.
CFAH2004A-YTI-JT is available for immediate shipment.
For reference only. For design purposes, please use the specifications in the datasheet.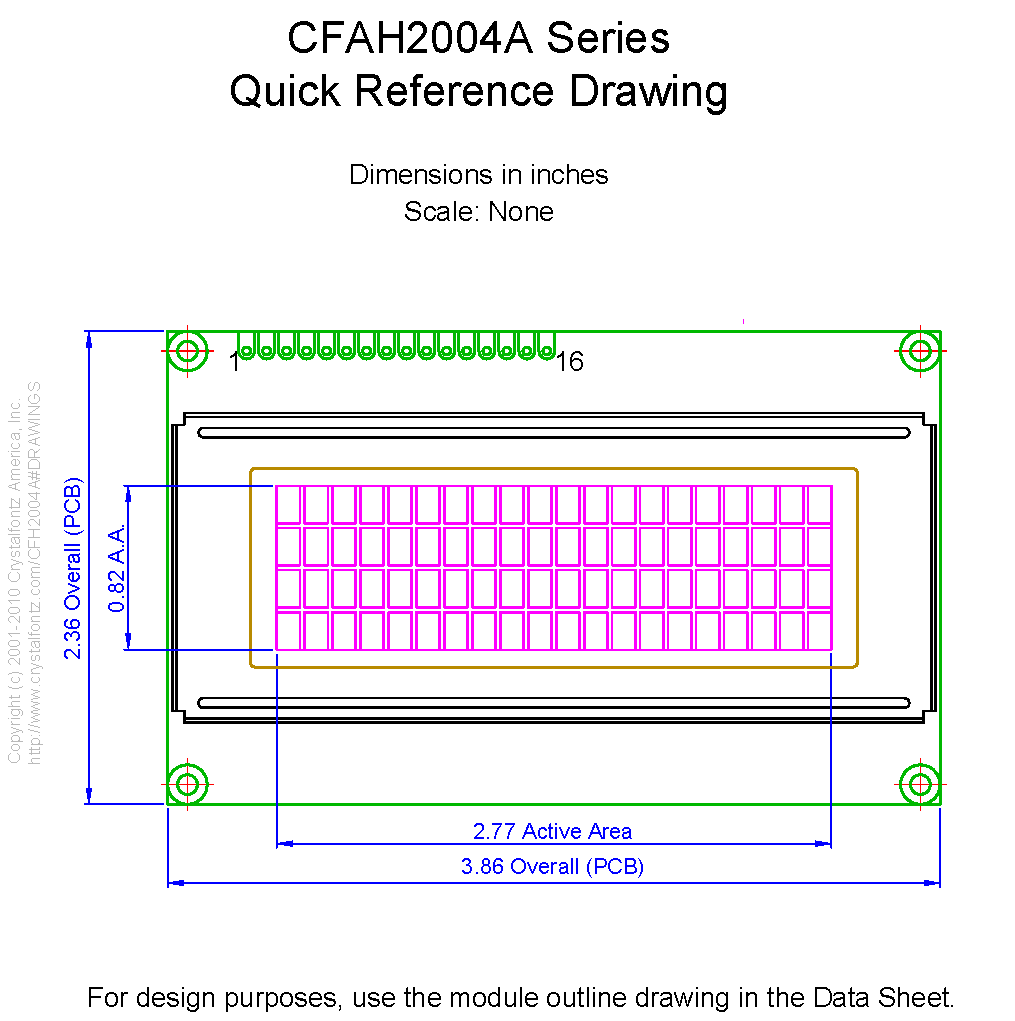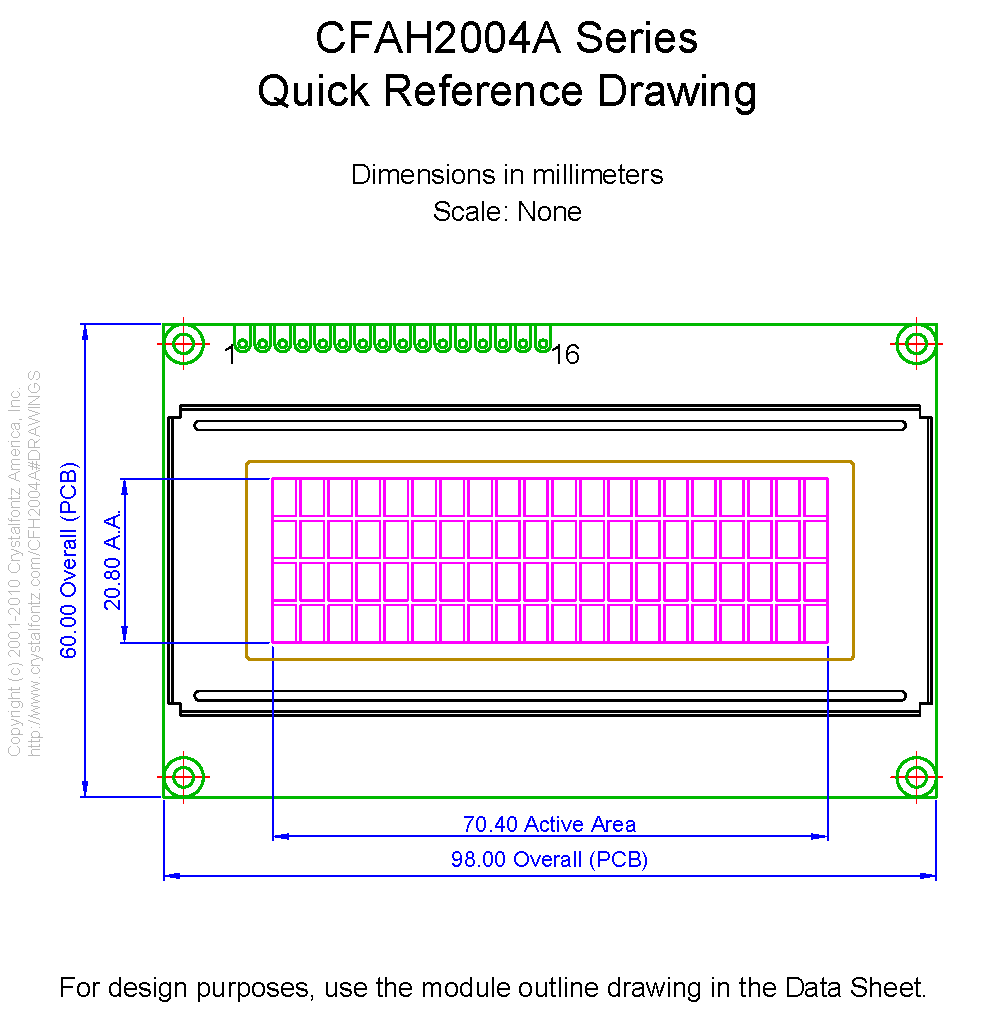 Product Notes
This product is End-of-Life and has limited availability. This display is not recommended for new designs. We suggest the CFAH2004A-YTI-JT as a replacement.
The price has been reduced on the remaining stock. These displays are perfect for a one-off or hobby project. As with all Crystalfontz displays, full technical support is included but we cannot accept returns. Once depleted, no more is available.