This interview is part of a series of 5-question interviews to meet the people at Crystalfontz who are part of our engineering team, answer the phone, answer support tickets, and ship your orders.
In this interview, meet Barb from shipping. If you have contacted Crystalfontz by phone sometime in the last several years, you have probably spoken with Barb a time or two. Thanks, Barb.
Meet Barb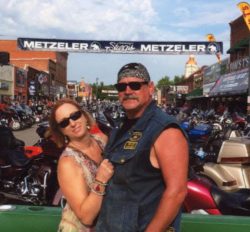 1) How long have you worked at Crystalfontz?
13 years.
2) What are your main job duties?
Customer service. Most likely I am the first person you will speak to when you call. My other duties include: logistics, RMA administrator, and organizer of company parties and social events.
3) What are your favorite things about working at Crystafontz?
Crystalfontz is family first. Crystalfontz has always supported me in any of my community service activities, both financially and allowing me time off.
With their support, I have run an after school (FLL) robotic program for 6 yrs. For 5 yrs, with the support of Crystalfontz, I have been the top 5 money raised as an individual for the Race for a Cure here in Spokane.
4) What hobbies do you like to do in your spare time?
Horses, motorcycles, canning, some gardening, and entertaining family and friends.
5) Do you integrate electronics or LCDs in your non-work life?
Nope, not really. I seldom turn on a computer at home and don't even own a smart phone. That said, there is the robotic program, but that work is up to the kids.
Thank you for your time, Barb!
Stay tuned for more 5-question interviews.