In this interview, meet Chris who splits his time between production and engineering. Wherever Chris is on any given day, he is 100% there for our customers. Thanks, Chris.
This interview is part of a series of 5-question interviews to meet the people at Crystalfontz who are part of our engineering team, answer the phone, answer support tickets, and ship your orders.
Meet Chris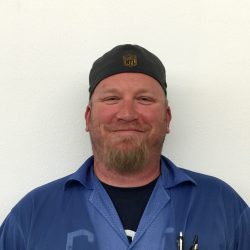 1) How long have you worked at Crystalfontz?
I have been working for Crystalfontz for a little over three and half years.
2) What are your main job duties?
The jobs that I do here at Crystalfontz are the repair tech, RMA repair tech and web order production.
3) What are your favorite things about working at Crystafontz?
The thing that I like most about working for Crystalfontz is that we are all like family here.
4) What hobbies do you like to do in your spare time?
The things I like to do in my spare time are coaching soccer for the local Rec center. One of my children plays on one of the teams I coach. I also like working on my R/C cars and fixing electronics for my friends and family.
5) Do you integrate electronics or LCDs in your non-work life?
Yes electronics are a big part of my non-work life. I repair my friends and family electronics. I also have an R/C car collection that I love to work on. I have all the normal electronics like tablets, cell phones.
Thank you for your time, Chris!
Stay tuned for future 5-question interviews.