Crystalfontz believes in giving back — to our local community and beyond. We shine the spotlight on organizations doing an amazing job caring for kids, communities, and those in need.
This post is about kids. Specifically, the dedicated elementary school kids who are part of the First Lego League team that Crystalfontz sponsors.
What's First Lego League?
First Lego League incorporates problem solving, robots, math, science, imagination, creativity, and fun.
From the First Lego League website:
Guided by adult Coaches, FIRST LEGO League teams research a real-world problem such as food safety, recycling, energy, etc., and are challenged to develop a solution. They also must design, build, program a robot using LEGO MINDSTORMS® technology, then compete on a table-top playing field.
Each year, a theme is chosen by the international organization. The kids study that theme to create a presentation. They are tasked with solving a problem and build a robot using Legos. The robot is based on a Lego Mindstorms EV3, which has a quite powerful ARM9 CPU running Linux.
Finally, they learn to program the robot to complete a set of tasks. Each team competes with other kids on local, state, and national levels.
Proud of Our Sponsored Teams
Crystalfontz is the proud sponsor of several teams from Freeman Elementary in Rockford, Washington. They all did an amazing job this year. The Taming the Turtles team qualified for the Washington state finals and will be competing in January. Congratulations, Turtles!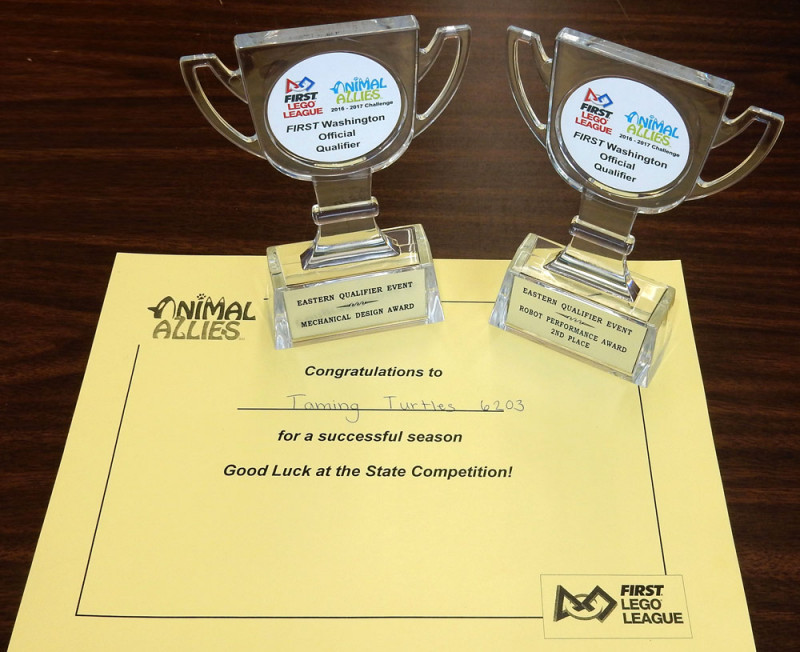 A few words from Barb, our employee and Taming Turtles team leader:
———
Once again it has been an awesome year. Thank you Crystalfontz, for your 7 years of support for Freeman Robotics.

Team Paws of Happiness takes home the 2nd highest score on the table and a trophy.
Taming the Turtles gets a trophy for best robot design. Their outstanding scores on core values moves them onto state.
Nacho Geckos showed gracious professionalism everyday throughout the season in no man left behind.

I want to thank Jo Kennedy for keeping me on track and never giving up. Jen Baumgartner, Lisa Paternoster who stepped up to coach the teams. Without these fine ladies, it would not have happened.

Crystalfontz has been the sole supporter of this program. Not only financially, but they have to listened to me carry on, and all of my ups and downs. They adjust my hours, provide tons of printing and encouragement.

We are making a difference in kids' lives.
———
Thank you for your dedication, Barb! Great job kids and coaches!
Related: Crystalfontz Charity Works: Family Promise of Spokane