Today's post highlights a Crystalfontz LCD sighting on PBS television.
PBS Series: "How We Got To Now"
The PBS (Public Broadcasting Service) show, How We Got To Now is a 6-part series exploring the things we often take for granted in modern life, and the innovators who brought these life-changing ideas into the world.
From PBS:
How We Got To Now with Steven Johnson reveals the story behind the remarkable ideas that made modern life possible; the unsung heroes that brought them into the world – and the unexpected and bizarre consequences each of these innovations has triggered. [Read more]
The six topics covered include:
Clean – The history of clean water and sewage systems.
Time – Standardized time and how we work, navigate, and live.
Glass – How glass lenses and mirrors changed the world.
Light – Our inventions and use of light.
Cold – How humans have learned to make things cold.
Sound – The impact of sounds on our lives and world.
The Crystalfontz 633 LCD with keypad was featured in episode #2 – Time seen at 47.12 minutes in the video, discussing the timekeeping for the US Naval Observatory Master Clock, the central timekeeper for all clocks and computers.
Here is a screenshot from the video: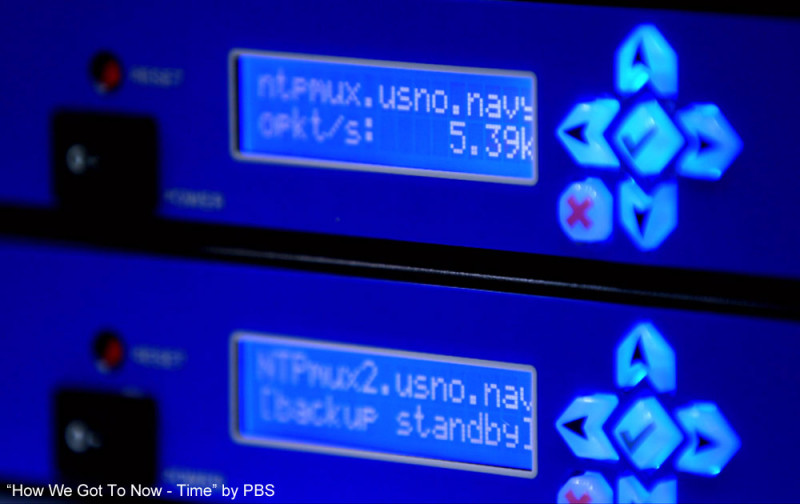 Watch the Series
View all of the How We Got To Now episode videos on PBS, Amazon Prime, and Netflix.
Crystalfontz in the News
Have you spotted Crystalfontz LCDs in the news or on the web? Please contact us to let us know or share your story. Thank you!