What is ISO Certification?
ISO stands for International Organization for Standardization. It is an organization consisting of 161 national standards bodies based in Geneva, Switzerland.
The purpose of ISO ensures an international standard of measuring and regulating products and services to ensure quality and safety at all points.
From the ISO website:
International Standards mean that consumers can have confidence that their products are safe, reliable and of good quality. Read more
ISO 9001:2015 certification is the basis of our Quality Management System (QMS). It is our guide to set quality goals, work with suppliers who provide quality components, work to understand and meet the needs of our customers, train our employees to ensure the best service and product, and correct any problems that arise so they won't reoccur.
The Preparation and Audit Process for ISO Certification
ISO certification is a complex process. The team at Crystalfontz — everyone from shipping and receiving to upper management — worked hard to meet requirements as we transitioned from ISO 9001:2008 to ISO 9001:2015.
We met with consultants and auditors to make sure we were on the right track and worked hard to make sure our processes and systems would meet the standards.
ISO 9001:2015 Certification
Crystalfontz is happy to share the news that we were awarded our ISO 9001:2015 certification on 20 June 2018.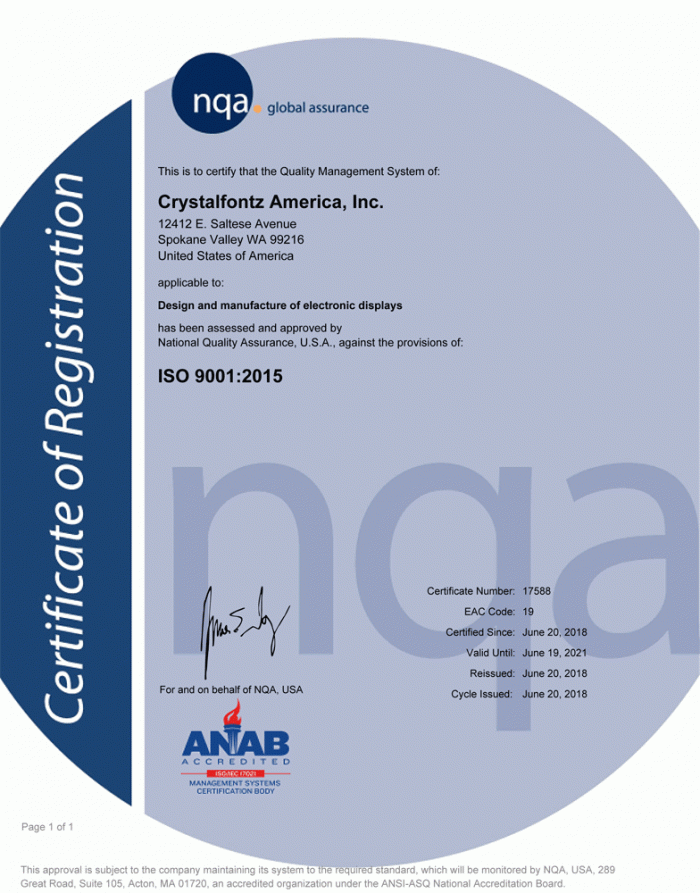 Notes From the Team
From Debbie, Crystalfontz Long-term Management System Consultant:
"We received our ISO9001:2015 registration with zero findings (major or minor) or observations."

"We met with consultants and auditors to make sure we were on the right track and worked hard to make sure our processes and systems would meet the standards. We are making sure that we have systems in place for continuous improvement."

"In my 30 years of working with companies to build or improve their management systems, Crystalfontz America is one of the few where the management team is leading the effort and ensuring that the systems that receive the ISO certification are the same systems they work within every day."
From Jean, Crystalfontz COO:
"We achieved this certification as a company. It took all of us. Everyone mattered. No one was inconsequential."
From Deb, Crystalfontz CFO:
"Not only does certification provide reassurance to our customers, the processes and systems we put in place help us manage our business more effectively. Beginning with top management and throughout the company, we strive for continuous improvement."
Why This Matters for Crystalfontz Customers
The focus of Crystalfontz has always been quality products, superior customer service, fast shipping and great prices. We pride ourselves on providing easy-to-understand technical support; helping our customers get our displays up and running quickly.
Our ISO 9001:2015 certification solidifies our focus with quality management systems in place in every department of our company. This ensures quality service for our customers and assurance in quality and longevity of our products.
Questions?
Customer care is our top concern. Please do not hesitate to contact us to answer your questions or find the best display for your project requirements.