This small monochrome ePaper has a 122×250 resolution in a 2.13" diagonal display with 130 pixels per inch.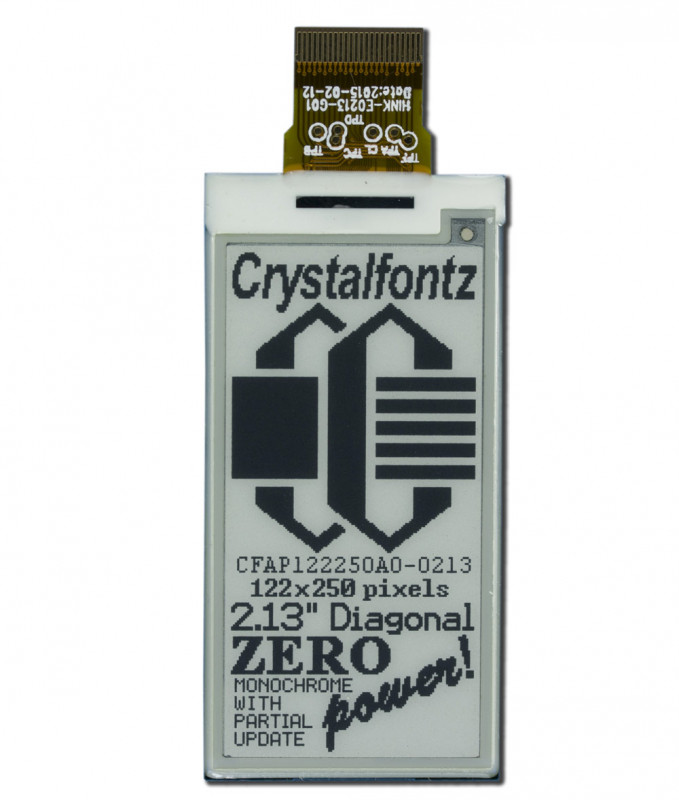 At A Glance, This Module:
Is black and white monochrome — easy to read.
Is bi-stable. (Will continue to display with no power source)
Can do a full or partial refresh.
Versatile. Use in portrait or landscape format.
ePaper Display Benefits
It has 122×250 pixel resolution, with a 2.13″ diagonal — making it 130 dots per inch in both the X and Y directions.
The display may be used in either portrait (vertical) or landscape (horizontal) orientations — choose the direction that works best in your application.
The great thing about ePaper displays is that they will retain the last image shown on their screen indefinitely, with no electrical connections and zero power consumption.
ePaper is readable in any lighting condition that normal paper could be read in. Because they are low-power, ePaper does not emit any light, so it can't be read in the dark.
See the 122×250 ePaper Display Module in Action
In this video demonstration, there is a full update, where the controller flashes the screen a couple of times to assure that there is no residual image, then the demo cycles through several partial updates, animating the letters and symbols.
This demonstration uses a Seeeduino v4.2 (Arduino UNO clone) running at 3.3v.
The display has a ZIF connector which makes it very easy to integrate into your design. There are a few external components which create a voltage generator, so you only need a single 3.3v.
Learn More
Learn more about the Crystalfontz 122×250 ePaper Display Module, including pricing, tech specs and full datasheets.
Need Additional Help?
Our knowledgeable and friendly support team is here to answer any questions you may have about this ePaper module or any displays you need for your project.