In this 5-question interview, meet Lorry, who works on our production line. Lorry programs and tests our LCD modules as part of our quality control team.
Related: Behind the scenes: LCD production line
This interview is part of a series of 5-question interviews to meet the people at Crystalfontz who are part of our engineering team, answer the phone, answer support tickets, and ship your orders.
Meet Lorry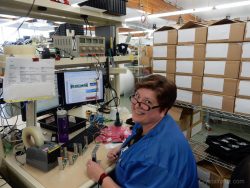 1) How long have you worked at Crystalfontz?
I have worked at Crystalfontz for a bit over two years.
2) What are your main job duties?
My focus is on quality assurance and logging work orders into the system.
3) What are your favorite things about working at Crystafontz?
The people!
4) What hobbies do you like to do in your spare time?
I enjoy gardening, baking, camping, fishing, needlework, and beading.
5) Do you integrate electronics or LCDs in your non-work life?
Yes — I use a tablet and a PC.
Thank you for your time, Lorry!