In this 5-question interview, meet Ying, our Production Manager. His duties are diverse, and Ying is a crucial link between the production and engineering teams.
This interview is part of a series of 5-question interviews to meet the people at Crystalfontz who are part of our engineering team, answer the phone, answer support tickets, and ship your orders.
Meet Ying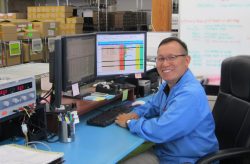 1) How long have you worked at Crystalfontz?
I have worked at Crystalfontz for 9 years.
2) What are your main job duties?
Production planning that includes:
a – Scheduling what part to run and when to run that part on our production line so products get built and delivered to customers in a timely manner.
b – Actively monitoring product quality through Incoming, Work In Process, and Outgoing items on our production line.
c – In conjunction with Engineering, sending reports or feedbacks to vendors regarding any quality issues that need to be addressed.
3) What are your favorite things about working at Crystafontz?
Crystalfontz is nothing like other places where I have worked before. Everyone here is valued as a team member, who can share the work and the fun equally.
Crystalfontz gives everyone the privilege to use their skills and experience to the full potential to serve customers. This is what Crystalfontz is great about, and that makes me want to come to work every morning.
4) What hobbies do you like to do in your spare time?
I love taking pictures, especially for family and friends. I also love the outdoors. In addition to seasonal hunting and fishing, I like taking my wife and children to the mountains or the forest for a day drive just to get away from the city.
5) Do you integrate electronics or LCDs in your non-work life?
Absolutely. I can't imagine how I can live without them. TV, GPS, microwave, radio, clock, stove, washer, dryer, computer monitors, and phones all have LCDs that we use to monitor, communicate, or interact with the devices to which they attach or to other humans.
Thank you for your time, Ying!
Stay tuned for future 5-question interviews.