Check out this developer's innovative use of the Crystalfontz 128×296 3-color ePaper display — a solar-powered WiFi ePaper setup.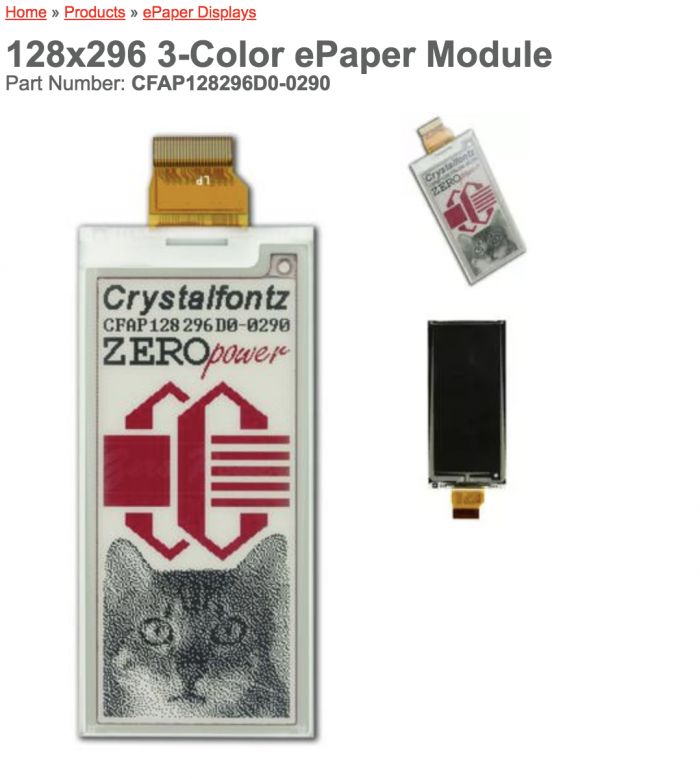 Developer Frank Buss provides a detailed write up of his project on his HackADay post.
From his post:
"The amazing thing about ePapers is that the image lasts without power forever (I tested it for months), and the contrast is very good. The idea is to build a small device with ePaper and solar cells, and then you can write or draw on it with your smartphone, or even remotely from anywhere over the internet to show a message."
We Agree
As mentioned in the write-up, one of our favorite things about ePaper displays is that they require zero power to maintain an image on the display. Once you set the display image, you can remove power entirely and it will continue to display, which makes it a perfect option for a low power device.
We also love that ePaper displays are high contrast and easy to read. Check out all of the Crystalfontz ePaper displays and learn more about the features of these unique modules.
Show Off Your Crystalfontz Display Projects
We love seeing projects like the solar-powered WiFi ePaper display. Thank you for this extensive write-up, Frank Buss.
Please let us know about your projects using Crystalfontz displays. We will showcase interesting projects — professional and hobby — for inclusion in our 'In The Wild' features on the blog.
Questions?
Our knowledgeable and friendly support team is here to answer any questions you may have about ePaper modules or any displays you need for your project.