June 7, 2017 10:29 am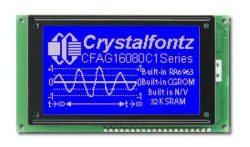 We've added 3 new terms to the Crystalfontz Glossary this week. Here is a quick intro about the main defining feature for each type of display module.
Click on each link to learn more, see photos, and find applicable Crystalfontz displays for each category.
Transmissive LCD – A transmissive LCD is always combined with a backlight.
Reflective LCD – A reflective LCD does not have a backlight and does not make any light on its own.
Transflective LCD – A transflective LCDs is a combination of both transmissive and reflective technologies.
What Display is Best For Your Project?
Crystalfontz carries a large selection of display modules in a variety of sizes, colors, and technical specifications.
If you have any questions about transmissive, reflective, or transflective displays or what type of display module would work best for your project, please contact our knowledgeable and friendly support staff by email, phone, or chat for assistance.
Categorized in: Frequently Asked Questions, Glossary