Crystalfontz is pleased to announce two new small OLEDs — both less than 1-inch (25mm) in size — to our product lineup.
Both of these small OLED displays feature a flex tail that is compatible with a standard 0.5mm pitch, 12-position ZIF connectors. The ZIF connector makes it easy to integrate the display in your product and manufacturing process.
These OLED displays support I2C or SPI, you can select the interface by setting the configuration lines.
48×64 OLED Display
The Crystalfontz 48×64 OLED mini display is a 0.71inch white-on-black OLED display. It is a perfect display size for small handheld devices. This module is low power with high readability.
With a viewing angle of over 160 degrees and ultra high contrast, these displays are easy to read from any direction.
This unit supports SPI or I2C interfaces and uses the popular Solomon Systech SSD1306 controller.

Video Demonstration of the Crystalfontz 48×64 OLED
64×48 Graphic OLED
This is another really small 64×48 graphic OLED, measuring .66 inches diagonally.
This OLED module is perfect for any device requiring a small highly readable low power display. Chip-on-glass technology keeps this display super thin and perfect for small or handheld devices. SPI and I2C interfaces are available for this module.
Controlled with the popular Solomon Systech SSD1306 controller you should have no problem getting this little OLED up and running in your device.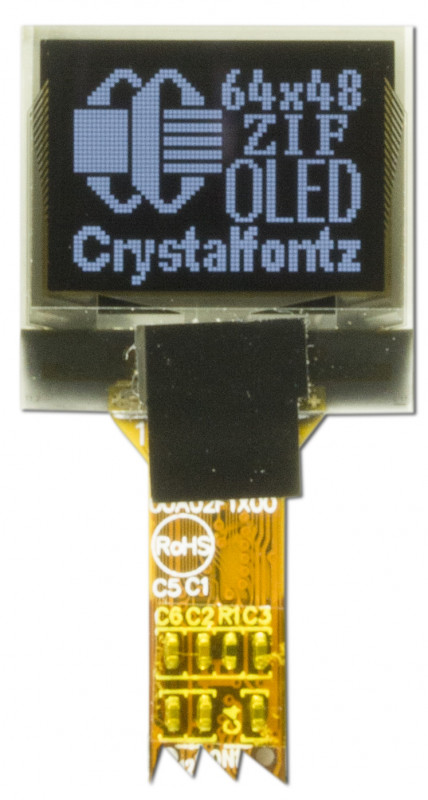 Video Demonstration of the Crystalfontz 64×48 OLED
Not Sure What Module is Best for Your Project?
Our knowledgeable and friendly support team is here to answer any questions you may have about these OLED modules or any displays you need for your project.