Introducing our newest addition to the Crystalfontz line of TFT displays: our 240×240 square full-color TFT display — a small, high-density square TFT LCD module.
This display is ideal for any application that needs a small display, especially useful for wearables, smartwatch, or small handheld instruments.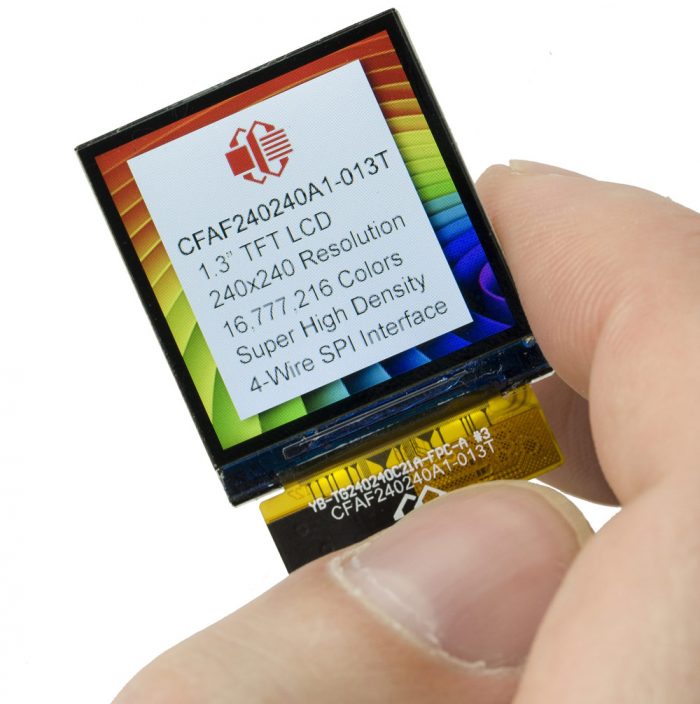 Hip to be Square
Reasons we love this display:
Shape: The 240×240 square shape is easily mounted at any orientation and the display output can be flipped/rotated accordingly.
Size: This small TFT easily runs on an Arduino or Adafruit Feather board.
Crispness: These high-density displays feature super crisp 57,600 pixels in 1.3″ active area.
Interface: 4-wire SPI, fast enough to run video (if you use a fast host/controller, not an Arduino).
Power: This display utilizes a single 3.3v power source for logic and backlight (easy to integrate).
IPS: Gives a wide 160° viewing angle in any orientation.
Thin: Only 1.5mm, including the backlight.
Easy: 0.5mm, 18-pin ZIF connector keeps it simple.
See This Full Color Square TFT LCD in Action
Need Help Getting Started With TFTs?
We are here to help! Our team of engineers and tech support team specialize in helping find the perfect display for your project specifications and ensure that it is easy to get up and running in no time.
If you have any questions about what TFT (or other displays, including LCDs, ePaper, and OLEDs), please contact our knowledgeable and friendly support staff by email, phone, or chat.