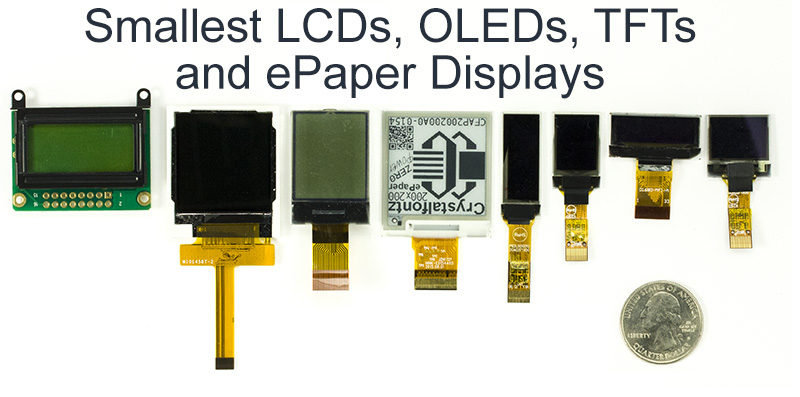 Question: What Are The Smallest Displays At Crystalfontz?
We receive frequent queries about different display sizes, such as:
1) What is the smallest LCD display?
2) What is the smallest OLED display?
3) What is the smallest TFT display?
4) What is the smallest ePaper display?
Answers: We Have Several Displays To Choose From!
The quick answer is here: we have created a new page with photos and links to all of our smallest LCD, TFT, OLED, and ePaper displays. This page will be continually updated with new displays as we offer them on our site.
Here is the quick list of smallest displays at the time of this writing, August 2018.
1) Smallest LCD display — 1.2-inch graphic display, 42 pixels by 65 pixels.
2) Smallest OLED display — 0.976-inch, 96 pixels by 64 pixels, and a >160° viewing angle
3) Smallest TFT display — 1.3-inch, 128 pixels by 128 pixels
4) Smallest ePaper display — 1.54-inch, 200 pixels by 200 pixels
Still Not Sure What Display Is The Best For Your Project?
We are here to help. Our trained tech team will help you find the display that will be the best fit for your project requirements. Please call, email, or chat with us today to get started.