As always, the Crystalfontz engineering team has been hard at work to bring new displays, boards, and accessories to our line up. Since our last new product round up we've added nearly 20 new parts to our line up.
New Displays
We've introduced a whole host of new display options.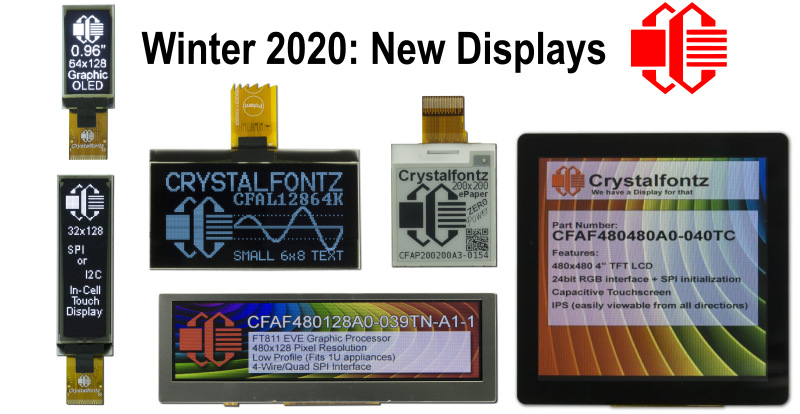 Square 4″ Displays
We've released two square 4″ displays: one with an overhanging capacitive touchscreen and one with no touch sensing. These 4″ displays are quite neat and would be a great choice to incorporate into a thermostat or other wall mounted info panel. We think they'd be great displays for IOT applications.
In-Cell Touch Sensing
An exciting piece of new technology we've brought to our site since our last newsletter is two in-cell touch displays. These displays sense touch using sensors embedded in the glass of the display. That means no second touchscreen tail. The two displays are a 0.96″ 64×128, and a 1.71″ 32×128 OLED display.
Keep your eyes peeled in 2021 for a demo board for these displays.
Bar Type EVE
We've been steadily expanding our selection of EVE displays. That selection now includes a bar type EVE with no touch panel. This would be a great display for an in-home appliance, or a 1U appliance, as this display module is designed to fit 1U devices.
As with all of our EVE displays, this bar type display is available as a development kit, wired up and running a demo sketch.
Read more about how an EVE display can help speed up your product development.
New Versions of Old Displays
We love when we're able to bring in a new version of an old favorite display. We introduced two such displays recently.
First is a 5″ resistive touch display. Between the resistive touchscreen and the high brightness, this display will shine in an outdoor application. Watch for an EVE version of this display in 2021.
Second, this 2.7″ white OLED, which is a drop-in companion of our yellow OLED.
Sometimes, we have to update our displays due to our suppliers EOL'ing parts. That was the case with our 1.54″ e-paper. The new version has slightly different dimensions and initialization code, but is still a nice low power display. It's available as a display on its own, as a display module with our e-paper breakout board, and as a development kit.
Other New Products
We've also been expanding our selection of display accessories. Let us know if there's an accessory you haven't been able to find, and we'll look into sourcing it.
First, we brought in some rows of header pins for use with Arduino or Seeeduinos. Or anything else that uses a single row of 0.1″ headers.
Second, four different lengths of 2-56 screws. 2-56 is the size of screw used to mount many of our modules with included stand-offs, such as our EVEs and intelligent LCDs.
Third, a flat flex cable (FFC) that pairs with our 5″ MIPI display to connect to the DSI connector on a Raspberry Pi.
Finally, we added yet another ZIF connector size. This time, it's a 6-position 0.5mm pitch connector.
Contact Us
If you have any questions, we can be reached at support@crystalfontz.com, we also provide chat and telephone support Monday through Friday during our open hours.
We love to hear about your projects! Find us around the web (YouTube, Facebook, Instagram, LinkedIn, Twitter, Forum) and let us know what you're working on.